Kerastase Fusio Dose Treatments
Are you ready to experience an instant hair transformation like never before? We're thrilled to bring you a revolutionary solution that will leave your hair and scalp looking and feeling its best: introducing the Kerastase Fusio Dose in-salon treatments. These custom-prescriptive, luxury hair treatments are designed to address your primary and secondary hair concerns with its two-part process that delivers instant, maximum results for the hair and scalp.
These treatments address every need and hair type which will deliver results that rejuvenate, restructure, replenish, nourish, volumize, enhance color radiance, promote anti-aging resistance and scalp balancing to name a few.
Available as an add-on with Any Service!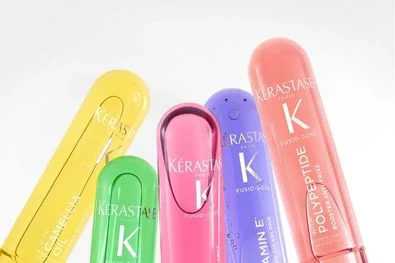 Personalized Color Combinations
Your hair is unique and so are your styling needs, with up to 30 unique custom combinations, our trained Ifergan Colorists and Stylists will create a tailored treatment just for you. Using a powerful concentrate and booster, the Fusio Dose treatment is formulated based on your hair goals, allowing you to address multiple concerns simultaneously.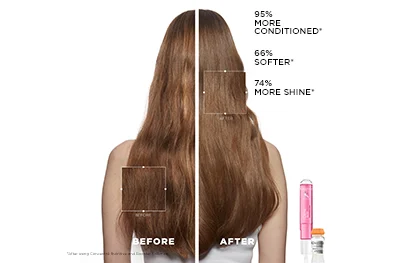 Even if you take excellent care of your hair, sometimes it needs an extra boost. Stress, styling, and environmental factors can gradually weaken your hair, leaving it dry, dull, and unruly. That's where our signature Fusio-Dose treatment comes in. It's a system of concentrated care formulas and boosters that your stylist will mix specifically for you, resulting in soft, shiny, and incredibly healthy hair. Watch as your hair quickly transforms and restores to its full potential.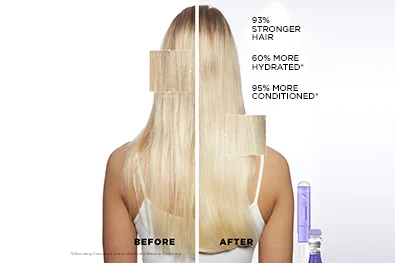 With Fusio-Dose, you can enjoy the benefits of addressing two hair needs in a single application. In less than 10 minutes, your hair will be transformed, nourished, and revitalized, leaving you with gorgeous, salon-worthy locks that command attention.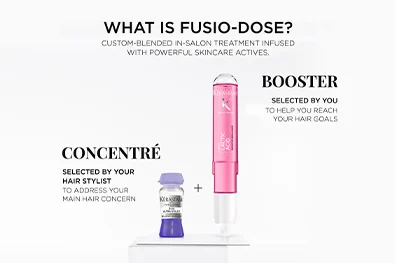 The custom hair treatment is a breeze! Your stylist will begin by diagnosing your hair to determine its specific needs. Then, they will create a create your custom formula using a Concentré and Booster combination and apply it to your hair. In under 10 minutes, your tailor-made treatment will be complete, and you'll be flaunting lush, re-energized hair all day long. Can be used as a stand-alone treatment, leave-in after color-service and prior to haircut and styling services – plenty of ways to use!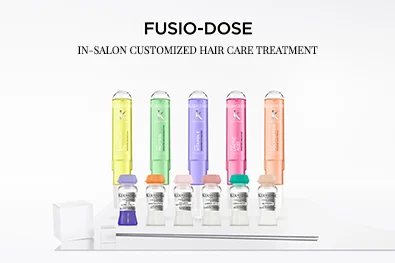 Is Fusio-Dose the same as a hair mask?
A Custom Treatment, not a mask!
It replaces your fondant or mask, but it isn't the same. Fusio-Dose molecules are up to 100 times smaller than a traditional haircare product and it is supplemented with skincare actives making it stronger and able to penetrate the hair deeper than a mask or fondant.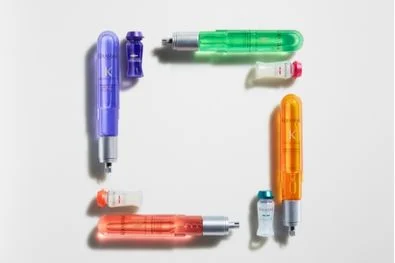 How do I know which Fusio-Dose mix is right for me?
Not sure which Fusio-Dose mix is right for you? Don't worry! Your skilled Technician will perform a detailed professional diagnosis of your hair to identify your main hair concerns and select the appropriate Concentré. They will also discuss your hair goals with you to choose the perfect booster. Rest assured, you're in the hands of a knowledgeable professional who will customize the treatment to meet your specific needs.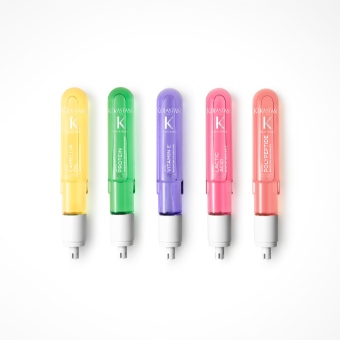 How often can I book a Fusio-Dose custom hair treatment?
You can book a Fusio-Dose custom hair treatment every time you visit our salon. Your stylist will continuously diagnose your hair and create a freshly-mixed formula that precisely targets your current concerns. They will adapt the formula each time to accommodate your hair's evolving needs. Indulge in a variety of Fusio-Dose treatments complemented to lifestyle and seasonal changes.
Don't miss out on the power of this personalized and transformational hair care!
Be one of the first to experience the magic of our incredible new treatment and let our experts pamper you with a custom-blended mix that will unlock the full potential of your hair. Call or book online below to experience your most smooth, moisturized, and nourished hair.
Available as an add-on with Any Service!